Description
(1) 10" Imperial Sterasyl Ceramic Cartridge
Contaminant Removal: Pathogenic bacteria, Cysts, Sediment
Organic Chemicals: Pesticides, herbicides, organic solvents, trihalomethanes.
Chemicals: Chlorine
Doulton Ceramic Filter Elements have been trusted by relief organizations around the globe for over 150 years. These filters were developed in 1850 to remove disease causing bacteria from London's Thames River.
These cleanable filter elements are designed to remove suspended solids, pathogenic bacteria, and chemical contaminants. In addition they will improve taste and reduce trace contaminants. These filter elements have been tested in accordance with NSF protocols for cyst, turbidity, particulates, and chlorine reduction (Class 1).
The ceramic contains a specially formulated self-sterilizing silver compound and, therefore, the Sterasyl element does not require sterilization after cleaning. The silver content is precisely controlled to keep well within the maximum levels recommended by the World Health Organization and the E.P.A. The cartridge conforms to NSF Standard (number 53) health benefits with respect to cyst, turbidity, particulate reduction, and self-sterilizing effects.
The cartridge is open on both ends and fit in standard 10″ filter housings.
Doulton Imperial Sterasyl Standard OBE Cartridge
This Doulton Imperial Cartridge fits in standard 10" Filter Housings and is recommended for increased capacity and flow over the standard Stersyl Cartridge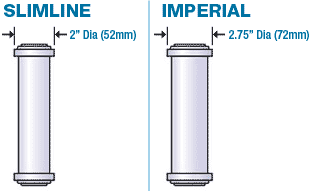 | | |
| --- | --- |
| Maximum working pressure | 125 psi (8.6 bars) |
| Maximum working temperature | 100 °F (37.8 °C) |
| Minimum working temperature | 40 °F (4.4 °C) |
| Recommended cleaning frequency | every 6 months or when flow rate is noticeably lower |
| Recommended change frequency | every 12 months |
| Contaminant Removal | The great majority of pathogenic (disease causing) bacteria and cysts are larger than one µ. The pore size of the ceramic filter element is controlled so that it will remove all suspended matter larger than 0.9 µ. |
| Pathogenic Bacteria | Chorela, Typhoid, Salmonella, Serratia, E. Coli, Fecal Coliform: >99.99% removal |
| Cysts | Cryptosporidium parvum and Giardia lamblia: 100% removal (based on tests by Arizona State University) |
| Sediment | Down to 0.9 µ, 100%; 0.5-0.8 µ with a filter efficiency of >99.99% (based on tests by Spectrum Laboratories, Minneapolis, MN) |
Some restrictions apply to the sale of ceramic filters in the states of CA, WI, MA & IA. Call for details.