Assembled in the U.S.
Reverse Osmosis (RO) drinking water systems include mechanical filtration to remove particles, carbon absorption and adsorption to remove chlorine, taste, odor and chemical contaminants, as well as membrane separation down to .0001 microns. RO membranes remove dissolved solids at the ionic level. No other purification system can provide better removal. Reverse Osmosis Systems provide the best quality drinking water for your family.
The USRO5-60-JG-CAL, 5 Stage Reverse Osmosis System includes the following: 60 Gallons Per Day (GPD) Thin Film Composite Membrane, NSF Certified Quick-Connect Fittings, NSF Certified Metal Bladder Tank, NSF Certified 10 Micron Carbon Block, Inline Calcite/GAC Post filter, Standard Faucet, John Guest Tubing & Accessories.
Your complete system includes installation parts, fittings and everything listed here.
Contaminant Removal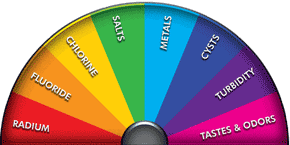 View Table of Removable Contaminants
Reverse osmosis systems remove the entire spectrum of drinking water contaminants...
Reverse osmosis drinking water systems include membrane separation, activated carbon absorption and conventional filtration to reduce the entire spectrum of contaminants that can be found in water. RO systems substantially remove heavy metals, such as barium, cadmium, chromium, lead and mercury; radium 226 / 228 selenium, cysts, chlorine, salts, turbidity and more!