Designer Faucets
More Faucet Options:
View All Styles and Colors
John Guest Quick-Connect Fittings:
No Tools Needed
Tubing connection has never been easier than with John Guest Quick-Connect fittings. View our simplified Quick-Connect diagrams to see how...
Download Quick-Connect Instructions
Requires Adobe Acrobat Reader
Contaminant Removal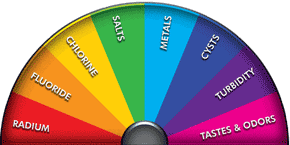 View Table of Removable Contaminants
Reverse osmosis systems remove the entire spectrum of drinking water contaminants...
Reverse osmosis drinking water systems include membrane separation, activated carbon absorption and conventional filtration to reduce the entire spectrum of contaminants that can be found in water. RO systems substantially remove heavy metals, such as barium, cadmium, chromium, lead and mercury; radium 226 / 228 selenium, cysts, chlorine, salts, turbidity and more!