Description
More Uses Than Bottled Water
Your Family will Benefit from Healthy, Clean Water
Great Tasting Water, Coffee & Tea
Healthy Water for Cooking
Endless Supply of Water
Never Runs Out
Pure Water for Ice
Improve Pet Health with Filtered Water
Save Money over Bottled Water
Reverse Osmosis (RO) drinking water systems include mechanical filtration to remove particles, carbon absorption and adsorption to remove chlorine, taste, odor and chemical contaminants, as well as membrane separation down to .0001 microns. RO membranes remove dissolved solids at the ionic level. No other purification system can provide better removal. Reverse Osmosis Systems provide the best quality drinking water for your family.
The USRO5, 5 Stage Reverse Osmosis System includes the following: 100 Gallons Per Day (GPD) Thin Film Composite Membrane, NSF Certified Quick-Connect Fittings, NSF Certified Metal Bladder Tank, NSF Certified 10 Micron Carbon Block, Inline GAC Post filter, Luxury Faucet, John Guest Tubing & Accessories.
Your complete system includes installation parts, fittings and everything listed here.
Features: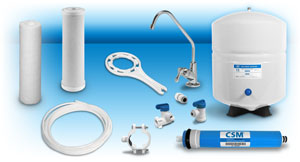 Components Included in this RO System
Warranty Information:
RO Filter Housing Assembly – 3 Years
Purified Water Faucet – 1 Year
NSF Metal Bladder Tank – 1 Year
Thin Film Composite Membrane – 1 Year

Neutralize the pH of your RO water
with this Remineralizing Kit.