Description
40" × 4" Nanofiltration Element for Commercial Applications
Permeate Flow Rate: 2500 GPD (9.5 m³/d)
Stabilized Salt Rejection: 99.0% MgSO4
Minimum Salt Rejection: 97%
Permeate flow and salt rejection based on the following standard test conditions: 2000 ppm MgSO4, 70 psi (0.5 MPa), 77°F (25°C).
Flow rates for individual elements may vary ±20%.
Developmental product available for sale.
View a chart that shows which inorganic compounds can be removed from drinking water with this reverse osmosis membrane.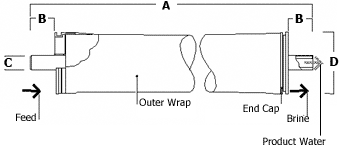 | A: 40.0" | B: 1.05" | C: 0.75" | D: 3.913" |
| --- | --- | --- | --- |