Description
This cartridge contains a patented media, KDF (U.S. Patent 4,642,192) which has been tested to have bacteriostatic properties in addition to effectively removing Chlorine, Lead, Arsenic, Cadmium and other contaminants that may be present in the water.
This cartridge should be installed with the gasket end against the screw cap. Be sure to check your flow direction. Remove the outside wrapper before installation. After installation, the filter should be flushed with sufficient water to remove all traces of fines.
The filter should not be used where the water is microbiologically unsafe or with water of unknown quality without adequate disinfecting before and/or after the filter.
Features:
KDF-GAC-PLUS Cartridge with a replaceable Sediment Prefilter.
Cartridge uses a combination of Granular Activated Carbon & Patented KDF Media.
Premium Coconut Shell Granular Actived Carbon is effective for chlorine, taste & odor removal.
Carbon/KDF ratio is 80/20 by volume.
KDF media is bacteriostatic. It inhibits bacteria growth from within the cartridge itself.
KDF media removes lead and free chlorine.
Amount of Carbon: 10.5 oz
Amount of KDF: 8 oz
(2) Additional Prefilter Pads are included with each cartridge.
Spacer shown allows this cartridge to fit in most standard filter housings.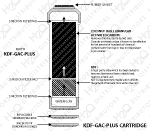 View a
cutaway diagram of typical under sink filter
to see how it works.