Description

Upgrade Your System and Save Money. Replacement Cartridges are now available with Bacteria Removal.

This is a replacement filter cartridge for:
Everpure H-300 Drinking Water System
Features:
Replacement Filter Cartridge for Everpure H-300 System.
The Everpure H-300 also replaces the following discontinued Everpure cartridges: H-200, H-201, and S-200
Reduces Volatile Organic Chemicals and 99% of lead.
Exclusive precoat design reduces up to 99.99% of particles 1/2 Micron and larger, including Cyptosporidium.
Reduces asbestos fibers, dirt, chloramine, chlorine taste and odor, mold and algae.
Taste the difference. Everything made with Everpure H-300 water tastes better. Scale inhibitor blended into the Micro-Pure material reduces mineral build-up in water using appliances.
Replacing the H-300 cartridge is sanitary and as easy as changing a light bulb.
Capacity: 300 gallons (1,135 L)
Flow Rate: 1/2 GPM
Certifications: NSF 42, NSF 53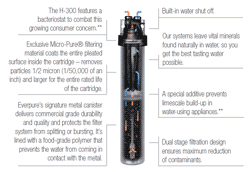 View Everpure H-300 Features to see how it works.

View a chart that compares the features of all Everpure residential drinking water systems we sell.