Description
This Aquatec delivery pump (DDP-5800) is used to deliver RO water to a remote refrigerator, bar sink or other desired point of use application.
This pump requires a standard 110v electrical outlet and does make noise. For this reason it is ideal to be placed in a basement or mechanical room if possible.
A delivery pump is only needed if the remote location is more than 12′ from the bladder tank. Many installations have been documented without a pump for distances up to 20′. If the distance you need to delivery the water is less than 20′, for the sake of economy, we would recommend installing the system without a pump first, and adding it later if needed.
Model F5852-7F12-J604 has 3/8" Quick-connect fittings built-in.
Automatic Pressure Switch and Power Cord are built-in.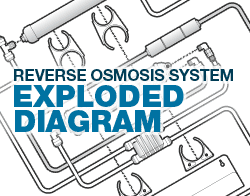 View our new Reverse Osmosis Exploded Diagram with Delivery Pump.