Description
This Aquatec booster pump, model # CDP-8800 is used for low pressure applications for RO systems with membrane capacities between 60 & 100 GPD.
This pump uses a standard 110v electrical outlet. A pressure switch and transformer are required and are sold separately at the bottom of this page. Features include:
Fully adjustable outlet pressure
Self Priming diaphragm
Regulated outlet pressure if inlet pressure varies
Mounts in any position
Anti-vibration base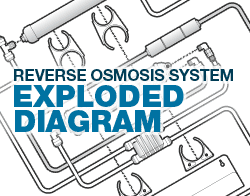 View our new Reverse Osmosis Exploded Diagram with Booster Pump.