Description
5 Micron Removal of Dirt, Rust & Sediment
Industry Standard Size 10" × 2.5" Sediment Cartridge
American Melt Blown's 4-zone technology allows the larger particles to be trapped in the outer most layers. The inner most layer is where the true efficiency rating is achieved.
Features & Benefits:
Removal from 1 to 100 microns
Quad Zone technology allow the formation of 4 separate filtration zones within the depth of the filter cartridge
Continuous 4-zone structure provides effective pre-filtration and final filtration
State of the art computer controlled manufacturing process delivers an extremely accurate and consistent product per each zone for proper fiber sizing
High-strength polypropylene core maximizes flow and optimizes each of the 4 zones. If required all Quad series may be ordered with cores
100% polypropylene construction allows a wide range of uses, including FDA compliant material for food and beverage contact under CFR Title 21
All Quad Series cartridges are free of surfactants, binders or adhesives of any kind
Continuous lengths up to 72″
All End Configurations available to fit most industry standards
All end caps are thermal bonded, no glues or adhesives are used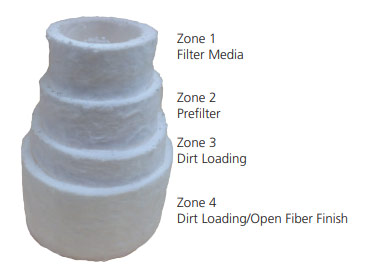 This image shows the Quad Series cut away layer by layer. The outermost layers are made of larger diameter fibers to allow larger particles to flow through, while the inner most layers trap the fine particles maximizing the life of the filter.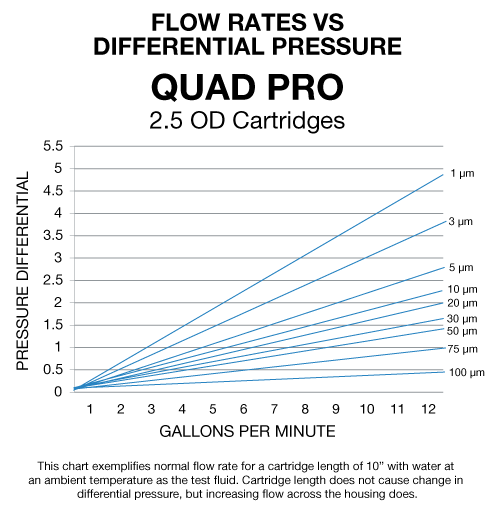 Image A is a microscopic photo of the outer surface of a typical melt blown filter. Most competitors blind off the surface of the filter to create smaller openings to achieve higher efficiencies. American Melt Blown's ability to control the inner layers' efficiencies separately allow the Quad BE Series to have a more open outer surface as in Image B. Not having to sacrifice dirt holding capacity to achieve high efficiency is why the Quad BE Series is superior to other melt blown filters.