The Need for Clean Water
667,000,000 people in the developing world do not have access to clean water. These people have no choice but to get water from sources that you wouldn't want your dog to drink from. The water smells and tastes bad and is full of disease causing bacteria and parasites. Usually women and girls are tasked with long, difficult walks lugging heavy jugs of water, taking time away from parenting or school. Often times this water makes them sick, but it's all they have. An estimated 1,400 children die from water borne disease each day.
About charity: water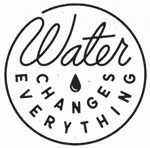 charity: water wants to put an end to this in our lifetime, and they know how to solve the problem. In a little over 10 years, charity: water has brought clean water to over 7,000,000 people and funded over 24,000 projects. They are a highly rated 501c3 charity with 100% of public donations going to fund projects. A group of 120 private donors fund the operation of the organization which is based in NYC. On a trip to Atlanta this month, charity: water staff stayed in homes of donors, rather than spend money on hotel rooms. In an era where non-profits often waste money, charity: water's frugality is refreshing.
50th Birthday Fund Raising Campaign
H2O founder Mark Tibbetts, along with his wife Cindy became connected with charity: water this summer, when founder Scott Harrison spoke at North Point Church. Having made a career of providing clean water to Americans, Mark and Cindy wanted to help people who needed clean water, and couldn't get it. So Mark decided to donate his 50th Birthday to charity: water. Rather than spend money on a party, Mark has set a goal to raise $7,500 for charity: water. To get it started, Mark and Cindy have made a personal donation of $2,500 and are working to raise the other $5,000 from friends and family and anyone who'd like to help.
If you would like to support this cause, please make a donation of any amount. It will be put to good use with charity: water providing detailed information on Google Maps, using GPS coordinates to show you exactly where the funds have been used to bring clean water to people.
Donate
charity: water